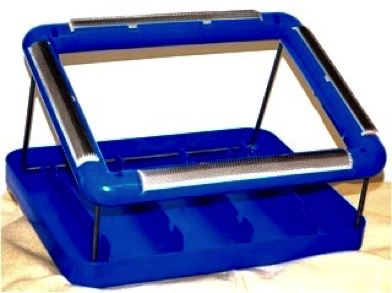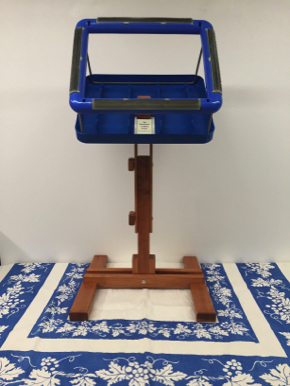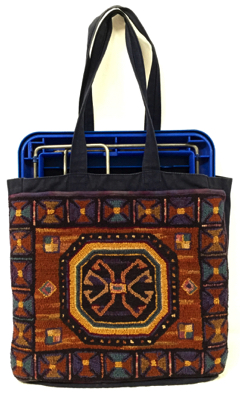 $239.00 + S & H
($19 shipping and insurance in Continental US - $43 shipping to Canada*)
Folds to fit in a book bag for easy transport!
Sits comfortably on your lap

A good frame uses "gripper strips" (industrial carding strips) to hold the backing tightly without damaging the fibers. This helps the rug hooker see the holes more easily and keeps the backing taut while loops are being pulled up from below. It also allows the entire rug to be pulled up and off the frame easily when moving to a new area to be hooked.
A good frame should be portable, lightweight but sturdy and fold easily for travel.
✤
A good frame is a tool that allows the craftsperson to honor their creative gifts.
Our gifts deserve good tools. Period.
SPECS on the PITTSBURGH FRAME
WHY BUY A FRAME FOR RUG HOOKING?
Made of ABS plastic and stainless steel, the Pittsburgh Rug Hooking Frame was invented to provide a more reasonably priced hooking frame that folded for travel and still used the technology of metal gripper strips to hold background fabric taut. It measures 13" by 16" across the top and folds to 2" high for storage or transport.
Rug hookers like to take their work with them to hook-ins, workshops, rug camps, and vacations so it makes much more sense to take a lightweight frame that folds for travel (the Pittsburgh Frame weighs less than 6 pounds) than heavier, more cumbersome frames. The Pittsburgh Frame also sits beautifully on our adjustable wooden floor stand by mounting an extra bottom tray onto the stand and simply moving the top part of the frame back and forth from floor model to portable model. Use of the adjustable wooden stand allows for complete 360 degree turning of the frame.
Metal gripper strips on all sides of the frame hold your rug securely while you hook. Since there are no pivoting arms, simply pulling down on any side of your hooking will tighten it onto the frame. Folding stainless steel arms support the frame at an angle that allows you to work comfortably and quickly. Flipping the top of the frame over while closing it into the bottom tray protects the gripper strips and you, collapsing it to a mere 2" high for easy storage.
✤
How to order a Pittsburgh Rug Hooking Frame?
PAYPAL (which also accepts credit cards)
or
Print out the Order Form, fill it out and mail it along with a check to:
Sandra L Brown
1275 Beal Rd.
Mansfield, OH 44903
QUESTIONS? Contact Sandra at: Pghframe@aol.com
or 419.709.8108