WORKSHOPS with Sandra Brown
Even though some rug hookers are self taught, our rate of improvement increases dramatically as we stretch ourselves into our gifts. It's a noble goal, working to perfect our craft.  Workshops are an opportunity to study a specialized area while receiving individual attention in a classroom setting. Typically the student is there to begin a new piece, and the combination of an experienced teacher facilitating the student's hooking while tapping into and husbanding the creative atmosphere one finds in workshops can bolster your sense of accomplishment enormously.  My goal is to get you to where you want to be in your hooked piece.  Here are some of the reviews for Sandra's workshops:
Arrangements can be made to host a workshop for your hooking group for as little as $50/day per student plus travel expenses by contacting Sandra at:  pghframe@aol.com
**New**
"Color Cross-Overs in Geometrics" (3-4 Days)
A more in-depth look at how gradations of multiple colors that change or "cross-over" each other can be used in a Geometric rug.  We explore which Geometric patterns work best for color-crossovers, which transitional wool swatches produce the most interesting results (plus how to dye for them), and how asymmetry and use of transparency can enhance design and composition.  As we explore color planning we will also learn how intensity and saturation provide impact to our finished pieces.  
"Kaleidoscope Color Cross-Over" "Double Wedded"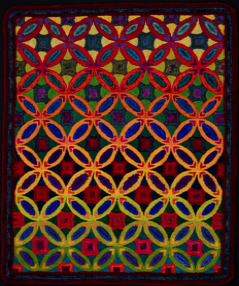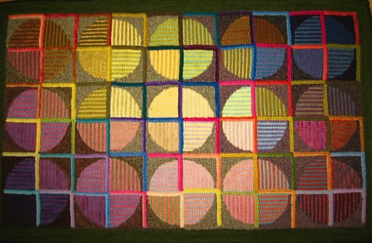 "Geometrics" (3-4 Days)
Geometrics go well in any decor - traditional to modern - and represent a unique opportunity for individual creativity and color choice. We will explore, in-depth, the possible interpretations of any geometric pattern - primitive to contemporary - and the various color options to realize a unique, one of a kind rug that the grandchildren will be fighting over.
Students will work on a new pattern of their choice, and spend time in class color planning, either with wools of their own or the large inventory (including rich gradation swatches) the teacher will have on hand. Cut can be anything from #3 to #9 and project can be anything from a small tote bag to a room size rug. Class includes a slide show lecture on Geometrics and Nature Patterns.
Essentially my goal is to provide you with a systematic way of approaching ANY geometric - not just the one you're working on. In addition to analyzing what patterns lurk beneath any given printed geometric, I will spend time on the first day showing students how to design their own geometrics. If you have a pattern in mind already we can start right in with pattern analysis and move from there to color planning. If you're undecided about a pattern, then designing one could be a fun experience - the idea is to stretch our brains a little in ways that are ultimately very satisfying. 
"LIGHT - A Key Element in Rug Hooking" - (2-3 Days)
We begin with an overview of how Light affects how we see things and what colors we see them in, how it affects mood, composition and dramatic narrative, and how--with its opposite side, Dark--it is the most important element in rug hooking. We will move quickly into how these aspects of Light (highlight, shadow, color rendering, to name a few) impact our hooking, whether it be a finely hooked floral, a portrait, a pictorial, a night scene or even a geometric or Oriental.  There is no aspect of rug hooking that doesn't have Light as an important design element in the original color plan--the topic pertains to any hooking project the student would like to work on.
"Pictorials with Dramatic Lighting" (3-4 Days)
A class on pictorials using depictions of each student's own house or a favorite scene to study lighting conditions that add drama to the finished piece. Skies at night, full moons, sunrises and sunsets will be explored and dye demonstrations will be included for those wishing to take these lessons on to other hooked pieces. The use of textures and values in pictorials will be covered, as well as the best wools for plants, trees and other greenery, water and reflections.
"House at Night" - A Celebrations of Hand-Hooked Rugs 1st Place Award for Original Design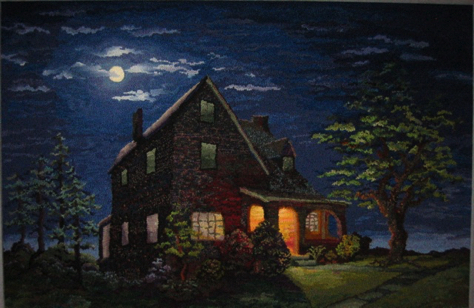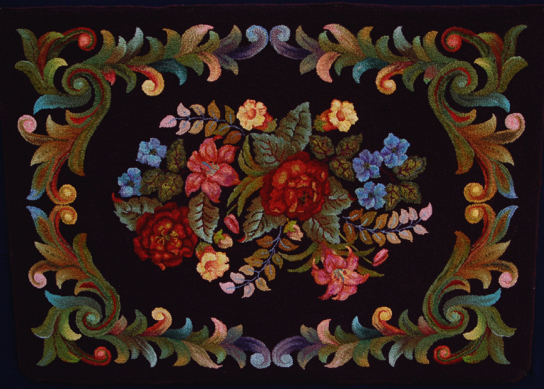 Flowers in Rug Hooking - Fine and Large Cut (3 Days)
An opportunity to study hooked flowers, both fine and large-cut shaded using hand-dyed, gradation and/or dip dyed wool. We will cover several basic flowers, including cabbage rose, iris, tulip, throated flowers such as lily and morning glory and multi-petaled such as daisy and dahlia. We will also learn how to hook leaves and scrolls and spend time color planning individual student's hooked rugs. Workshop includes dye demonstration showing which dye systems work best for various floral motifs.
"Palace Scroll" - A Celebrations of Hand Hooked Rugs 20th Anniversary Winner - Pattern by Jane McGown Flynn.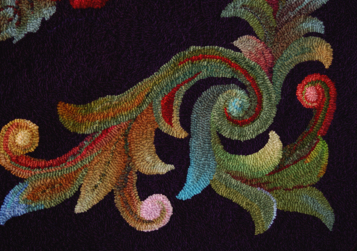 Sandra L Brown • 1275 Beal Rd. • Mansfield, OH • 44903 • 419.709.8108 • pghframe@aol.com